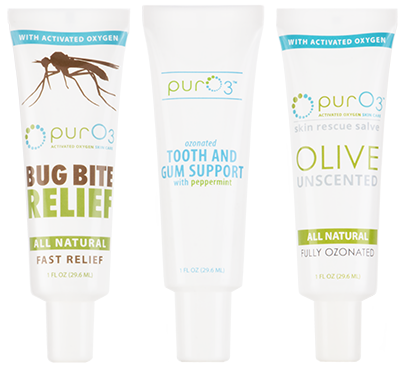 Cover all your needs with convenient, travel-sized tubes of ozonated oils, and save 10% over buying them separately.
They fit nicely in your carry-on, backpack or handbag, and will keep you covered in a variety of ways while you're on the move.
You will receive:
One tube of Bug Bite Relief: Combining ozonated olive, hemp, sunflower and avocado oils with clove and rosemary oils, this is a great way to help reduce the swelling and itching of bug bites. Check out our Bug Bite Relief page for a breakdown of how each ingredient works to provide an all natural option for those annoying itches and bumps.
One tube of Tooth & Gum Support with Peppermint: Our most popular tooth and gum formulation, this brings together ozonated olive and hemp oils with organic peppermint oil for an improved taste. Tooth & Gum Support makes it easy to add more power to your daily oral routine. And there's no fluoride or unnecessary ingredients.
One tube of Ozonated Olive Oil: Extra virgin organic olive oil, fully ozonated and tubed for handy access. Jars can be a hassle on the road, so this tube solves that problem.
---
About PurO3 Activated Oxygen/Ozone: PurO3 uses a revolutionary new ozone technology called microfluidic platform technology fed with an ultra pure oxygen source. What makes this method special is the pure form of ozone produced without any heat. This allows PurO3 to provide the highest quality ozonated oil products on the market today.


More Information
Fully ozonated oils: Oils that haven't been ozonated enough remain liquid even after they are refrigerated. PurO3's oils are fully saturated, with as much ozone as the oil can hold, creating a soothing salve.
Certified organic ingredients: We only use 100% organic, cold-pressed, extra virgin olive oil.
Cold ozone production with a high purity oxygen source: Some oils are ozonated with high heat machines and low quality oxygen. PurO3 uses only medical grade oxygen and ultra pure ozone.
Refrigerated storage: Our oils are frozen before they are shipped to you, so they keep their potency longer. Refrigerated oils can last up to ten years. We've found that even at room temperature, our oils can last up to a year.
Pure: No fillers, stabilizers, preservatives or binders. Simple, safe and pure.
100% all natural and safe: No hidden ingredients.
Made in the USA
Ingredients:
See each product page for a complete list.
Storage:
Keep out of direct sunlight. Not necessary to refrigerate if used in a two month period. If not using within a two month period, refrigerate to preserve longevity of the product.
* Organic