REWARD POINTS
All about our Rewards Program
At PurO3 we appreciate our loyal customers and friends, and we want to build a community here at PurO3.com.

So we've implemented Rewards Points into our website to give back to those who give so much to us.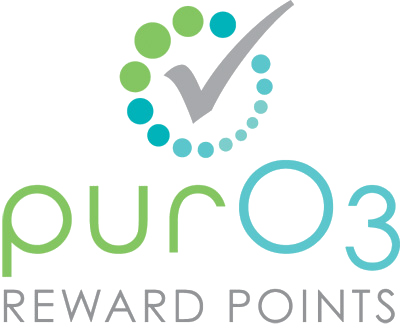 Register a retail account at PurO3. Once you're signed on, you will receive points for every dollar you spend, as well as when you refer first time customers who click your link and make a purchase.
We also do ocassional contests or specials that allow users who have an account at puro3.com to gain even more points. Stay tuned to this website or sign up for our newsletter so you know when that happens.
At any time, you can log into your account and see how many points you've accrued and what rewards you are eligible for. The system will let you know what to do. You can find more information below.
Check out our YouTube video for the basics, or have a look at our Frequently Asked Questions below.
Just create a retail (default) account and order products. You'll receive ten points for every dollar you spend. Points are added after an order ships.
Login to your account and click on the PurO3 Rewards box. This will appear at the bottom center of your screen on a desktop or iPad/tablet, or elsewhere on the bottom of a mobile phone screen. If you aren't logged in, simply click the PurO3 Rewards tab and it will tell you how you can earn points. (Note: Reward Points are for retail customers only.)
You can click the Account tab in the Rewards box to see how many points you have, how many you've used, and other related information. Click the Use Points tab to see how many points you have and any rewards that are available to you (starting at 500). When you have enough points, the Get Credit button will be clickable.
Once you've redeemed points using the Get Credit button, a store credit will appear in your account. To use it, simply make sure you are logged in when you order and that the checkbox is clicked in the payment section of checkout (see screenshots below).
Please note that Reward Points are for retail customers only. If you are logged in as a wholesaler, this box will not open.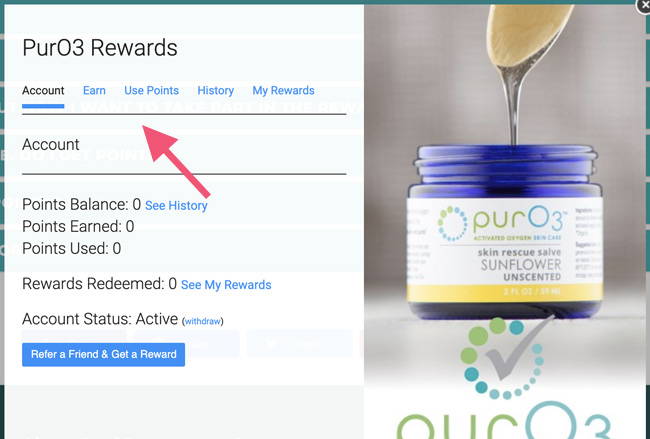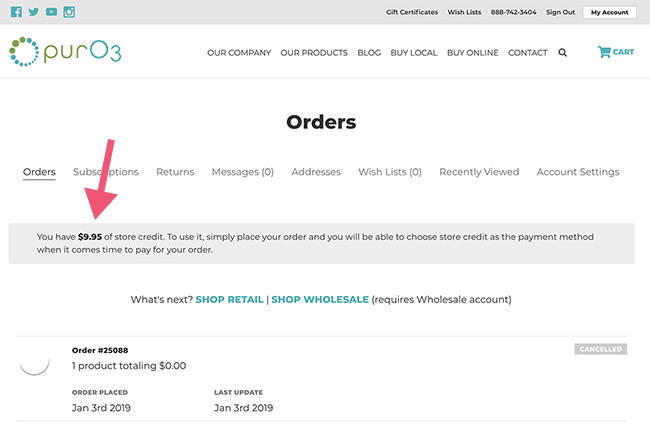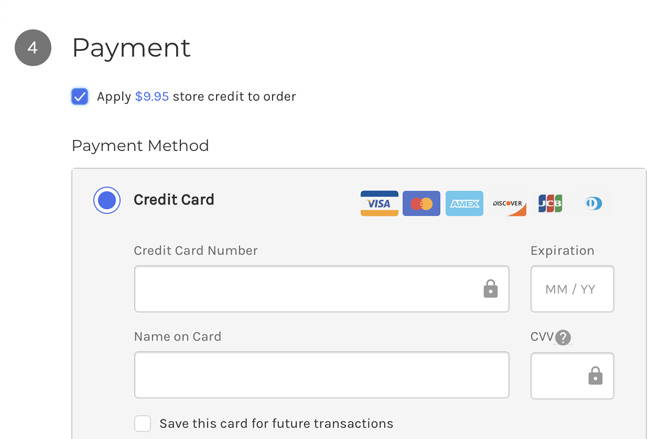 I USED THE GUEST CHECKOUT BUT NOW I WANT TO TAKE PART IN THE REWARDS. HOW CAN I DO THAT?
Register your account the next time you order and let us know that you were a previous guest customer at puro3.com. Our webmaster will look up your previous order and make sure you get points for it on your new account.
I BOUGHT ON ANOTHER WEBSITE. DO I GET POINTS?
Reward Points are only good for orders made on puro3.com, as a thank you for buying directly from PurO3's website. Orders from Amazon, Ebay, or other distributors are not eligible.
CAN I GIVE SOMEONE ELSE MY POINTS?
Points are not transferable, but if you want to use your points to buy oils for someone else, you absolutely can.
CAN I USE POINTS ON A PHONE ORDER?
Reward Points are designed as a thank you for placing online orders and as such, they can't be used during a phone order. You will however accrue points when you place a phone order as long as you have a PurO3 account.